After collecting 3 starlets, 5 years of driving the matte black starlet and 20 track days, I felt it was time to retire the tart as a daily. I'll never sell it tho and the plan is to fix her up into a neat ol' lil track car. With that in mind I set out to buy a rear wheel drive daily and back up track car.
I initially started out looking for a cappuccino, the car I had lusted after for many years. Anyone who has seen my reaction when I see a cappa on the road knows what i'm talking about.
Finding a cappuccino proved harder than I thought. Mugsee found 1 for sale. I called the owner up and it was already sold. I had a few of the cappa lads on the look out for me, and they found one in Ringwood for $15000. Yes, $15000! This is not an unusual price for a cappa either as they rarely come up for sale. As much as I love cappuccinos, I could not justify that kind of price for my beloved kei car.
The 2nd car in line was an mx5.
I confess, I've never been a long time or die hard mx5 fan like c2888had been, I'd always thought they were too girly to be honest however, (due to blowing up tart) I was presented with the opportunity to drive his mx5 around for a week. I suddenly knew why everyone raved about them.
The car was gutless as all hell but DAYUM was it fun to drive!
So with that, I set about looking for my own mx5. The car had to have the following features:
- Power steering
- Air conditioning
- Hard top (as car gets parked on the street)
- Good condition (low kms – well looked after)
-
DEFINITELY NOT RED IN COLOUR
Without further adieu, I present you with the reddest mofo you've ever seen.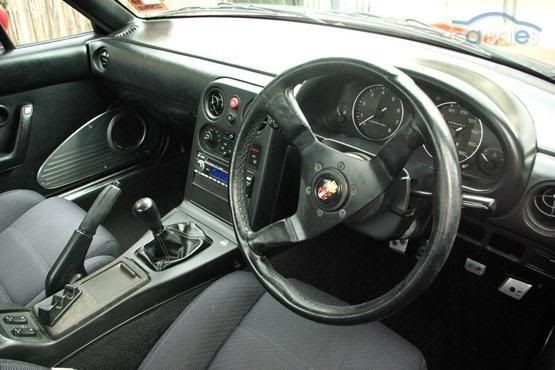 Whilst I can't stand the colour of the car, it was the best condition one on the market (during my
extensive
1 week carsales search) so I figured it'd be silly to pass it up based on its colour. Just in case you were wondering, I wanted a white or a black one.
The lil' roadster was purchased off a woman in her mid 30's who did about 7000kms every year. The car has 143900kms on the clock. Usually with imports I wouldn't take the kms on the odometer as gospel however, the condition of this car seemed to reflect the kms.
She kept all sale documents and every single receipt for services and maintenance completed to her car which she has since passed on to me.
It passed a roadworthy with nothing more than a polish of the windscreen!
Here it is sitting happily next to tart. I have dubbed these two clowns
Team roadSTARlet.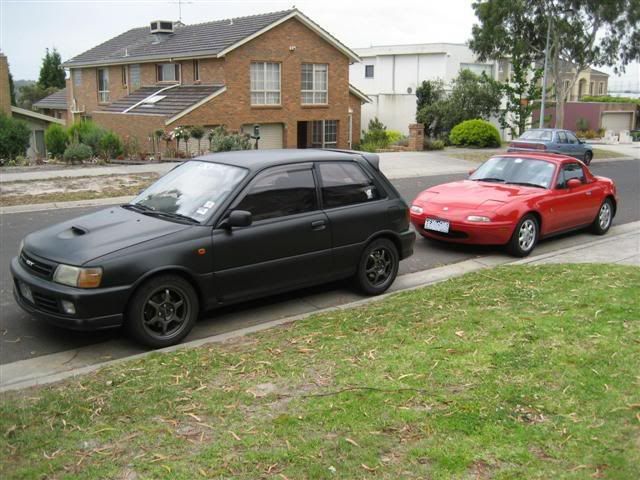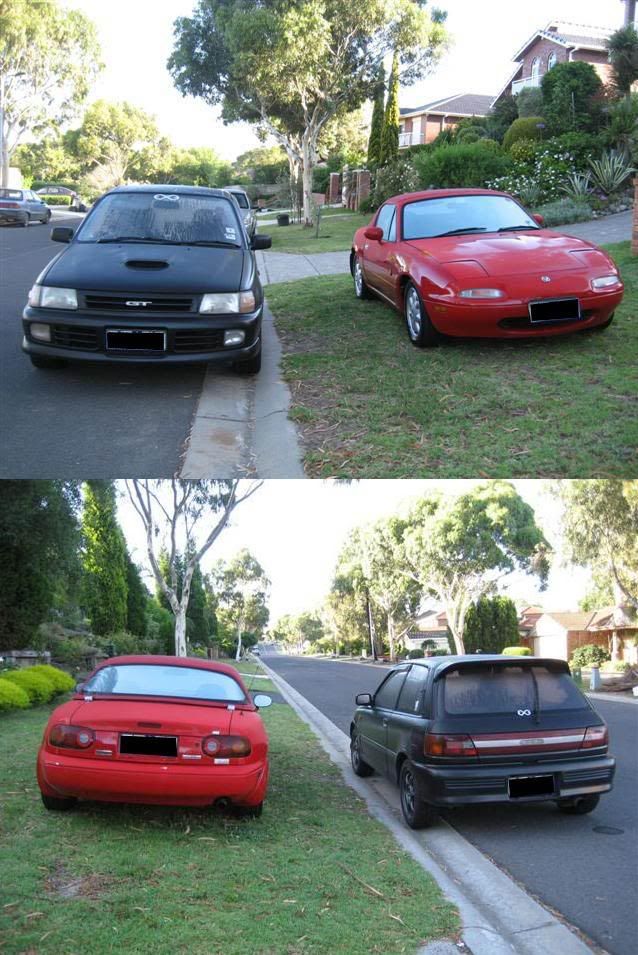 As this is the daily, plans are very modest and include:
- Rims
- Coilovers
- Exhaust
- Track days
Why is this car called M&M? Because here it is next to c2888's. How embarrassing… :oops: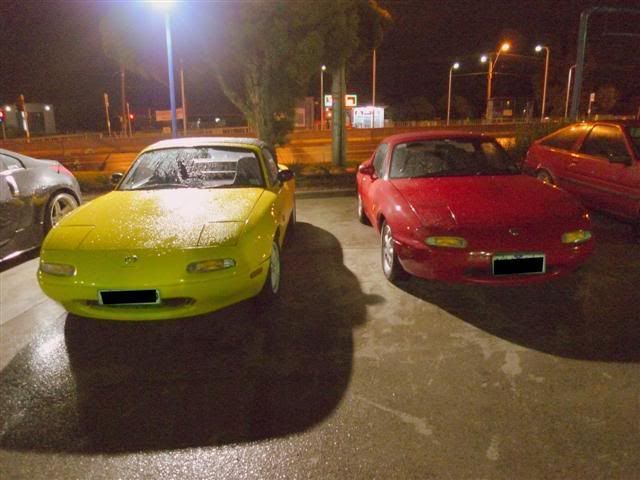 Thanks to c2888 for mechanically inspecting the car for me!
Many new adventures to come, I've got some track days planned in this car for early next year haha.