hey everyone, im new here and was asked to put up some pictures of my car, Toyota Sera, 1990
ok.. short story about my then onto the car,
so the search for a starlet engine brought me to your shores and ive so far been well looked after. im 17 and i live in Gawler, Adelaide, SA, and my name is Jeff
feel free to add me on facebook -
http://www.facebook....hp?id=680675944
so the car,
my dad found this car in a padock in grass up to the windows, she was a bit broken and run down. after watching this car sit there for a few weeks, dad finally went in for a closer look, and noticed a for sale sign had fallen onto the floor. after a bit of dicking around getting her started dad bought it and had it as his run around for a few months,
this was when we realised that there was a super oil leak as all of the seals had gone, this was all when i was getting my learners and starting to drive, i had a car (old daewoo) and it was alright, but nothing like this.
soon after i was given the car as a christmas present and thats where the story begins really. i had the engine rebuilt and the suspension replaced, the rims and tires also.
since then i have gotten my first speeding fine cruising around in sera and have had my first crash ( which dad and i fixed a bit dodgily,)
and now im surching for manual turbo goodness.
so without further rambling, this is my sera.
the day i got it
the crash damage
as it stands today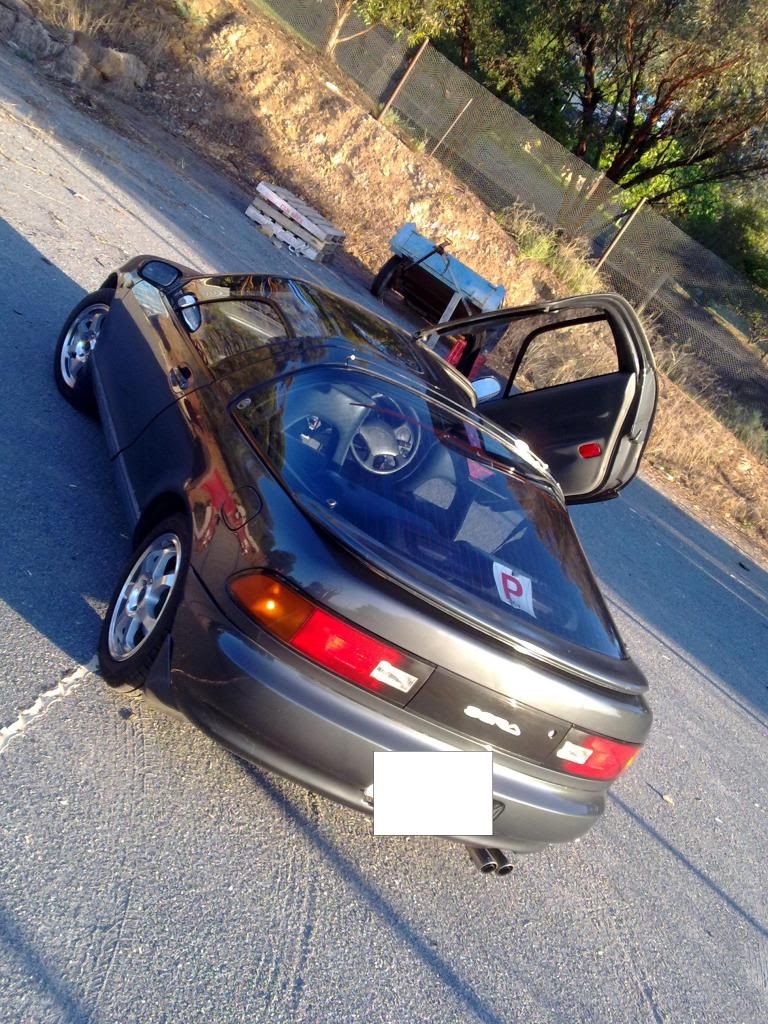 full mod list below
Audio / Visual
JVC head unit
kenwood mono block amp
kenwood speaker amp
12" kenwood sub
4" kenwood splits KFC-S402P
Cosmetic - Exterior
Metal Roof Spoiler Tab Repaint
repainted engine badge
Replacement of Taillights
new headlights
Spolier Removal
Thorough Engine Bay Clean
Cosmetic - Interior
Boot Divider Retrim
new cubby from blue sera
Repainted Parcel shelf supports
replaced parcel shelf brackets
Retriming of Parcel shelf
Roof Blinds ReColour
fire extinguisher
Performance - Engine
All engine gaskets
All Engine Seals
Engine bearings.
Engine Rebuild and clean
Left engine mount
Radiator top brackets repainted
Rear engine mount
Right Engine mount
Thermostat CM8302
Thermostat sensor housing
Water Inlet
Performance - Suspension / Brakes
King Springs front (pair)
King Springs Rear (pair)
KYB Front Shockers (pair)
KYB shocks rear (pair)
Whiteline Strut Brace
[still sitting a little bit to high
]
Wheels / Tyres
185/55 R15 82V MAP1 MAXXIS
CSA Nos 4X100 alloy wheels
thats all for now, thanks everyone
Edited by Jwatt, 30 July 2011 - 11:28 AM.