Lo everyone, finally been accepted and can now post!

Quick backstory of me - I'm a filthy backpacker from the UK, and also a bit of a car nut who's been travelling around Straya in an old 90 series Prado. After much travelling, car related drama, and finally getting rid of the pile of sh*t, I needed another car.
We originally ended up "settling down" in Brisbane for about 4 months before we went on a second road trip to Melbourne. Long story short - We hated it, and wanted to move back to sunny Brisbane. While I was still in Melbourne I did a bit of car shopping to find a suitable run-around for *if* I start work, and for us to take weekend trips out of the city and enjoy the finest of Queensland Beaches and adventure times. So, after a few hours of searching I found a super SUPER cheap car that was pretty much exactly what I was looking for. I say exactly... It didn't have either 8 cylinders, or an FI6 cylinder monster, so nothing what I really wanted. Whatever. It's cool.
(I've shamelessly copied the rest from an MX5 Forum I'm on... ahaha)

I found the car on Gumtree, and thought I'd give the owner a ring and speak to him. His story was that he has a baby coming along, and just needs rid of the car as it's not being used much. He was also very honest on the phone, as he mentioned a small car park accident resulting in a damaged front wing and Driver side door, which were consequently replaced with second hand items. The drivers door gives a bit of a *donk* when closing, but other than that, it's pretty sound. I might have a go at re-aligning it but it's not so much of a bother. Also, it had a timing belt done 10k kms ago, and the oil and coolant was done very recently as well. Sounds like a winner to me!

The temptation to send the guy a deposit there and then was tempting but that's kinda dumb, and I know I can be very irrational and make dumb decisions without really thinking first so I did the boring grown-up adult thing and sent a trustworthy friend to go see the car, who promptly called me back after the viewing and told me to "f***ing BUY IT NOW HARIS YOU DON'T UNDERSTAND HOW CLEAN THIS f***ing CAR IS CUNNNT".

I sent the guy a deposit, and picked it up the day I landed in Brisbane, ahaha.

Without further Mountain Dew, I give ye.

The Turdlet (1998 Toyota Starlet LIFE) - Excuse the shite mobile cam pics lols.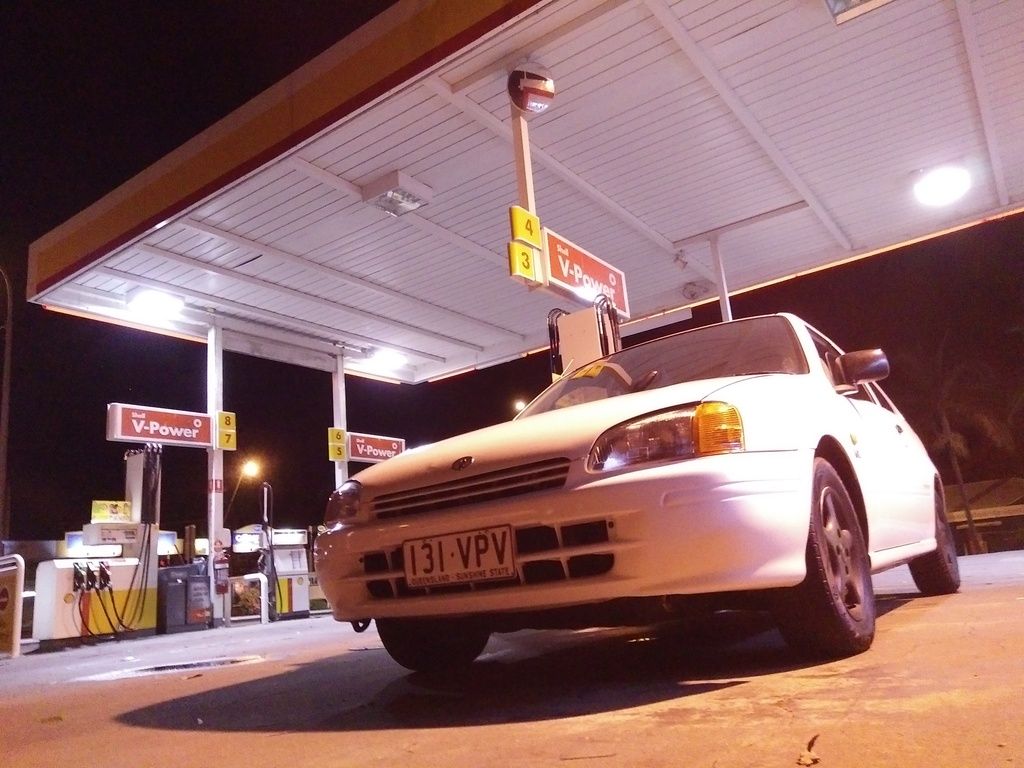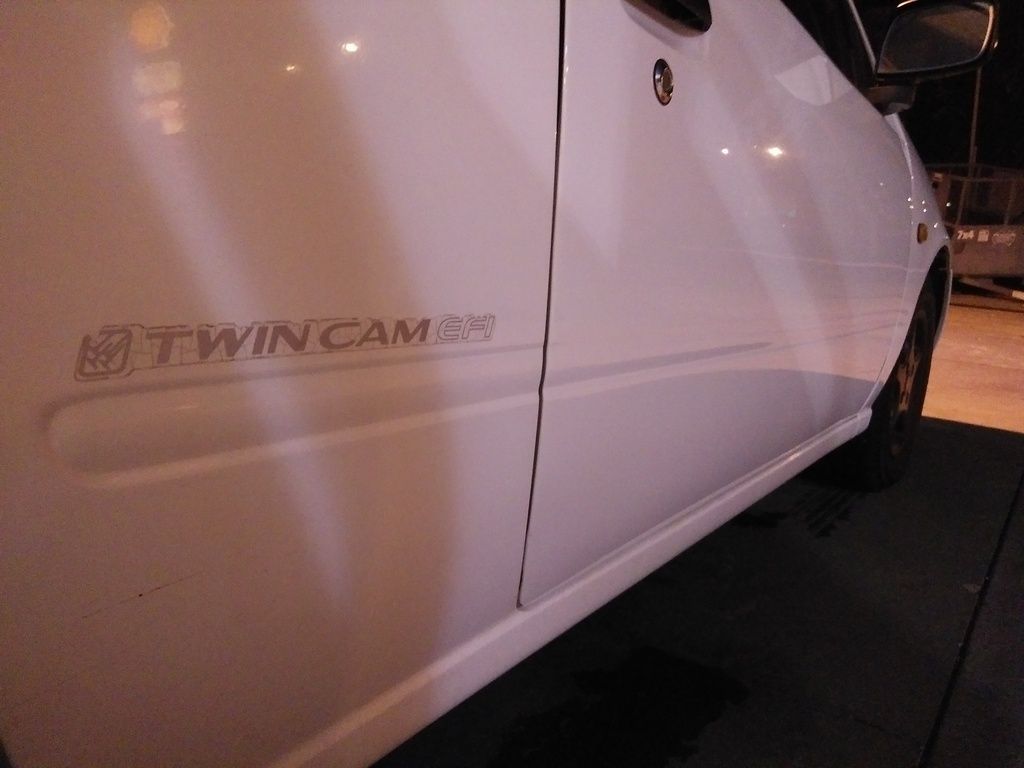 This was evening 1 of car ownership and was taken just after I picked up the car :3 - I treated The Turdlet with 98 Octane V-Power for the lols and have been using it for the last two tanks as well. It's cheap, and, yer. I probably need all the octanes I can get because it's SO SLOW.






Day 2:

 



Omg so happy :3



So, "What's under the hood bro?" you ask? Unfortunately, it's not the boosted 4EFTE that comes in the GlanzaV, but it is the peasant spec 4EFE N/A engine for great honour.

Specs of this engine are somewhat, uh. Crap. See below for copy pasta from Wiki:

"The 4E is a 1.3 L (1,331 cc) DOHC version. Bore was 74 mm and stroke 77.4 mm. Output ranged from 81 hp (60 kW) at 6,400 rpm to 99 hp (74 kW) at 6,600 rpm with 81 lb·ft (110 N·m) of torque at 3,600 rpm to 86 lb·ft (117 N·m) of torque at 4,000 rpm. It appeared in 1989, and was discontinued after 1998. The 4E engines appeared in fuel-injected applications."
(I'm sure my fellow Starlet owners know the engine specs of the mighty 4EFE... Like I said, I posted this originally on mighty5s.com and copied pasta ahaha.)

Incredulous!

Although I believe I may have the Third Variant of this engine which has an estimated output of a pathetic 82BHP. Lame.

It's also somewhat non-standard as well, it's currently sporting Pedders Lowering springs, Maxxis tyres (Not sure what model of Maxxis, but they're not too bad), A Pioneer Bluetooth Head-Unit and upgraded speakers all round although the rears in the parcel shelf aren't plugged in, so I'll get those hooked up for honourable rear noise glory!


The sensible me is telling me to keep it standard. But, I already did a sensible, so no.

So far, I've put on stickers... Aaaaaand that about it.




Am I JDM yet?

That's it for now.
I have a few problems with the car. Well, one main problem and that being the bloody airbag light is now on, and the horn doesn't work - Which in Brisbane is a necessity because the average regular jack-off normie doesn't really watch where their driving here... Extensive googling has come up with some results, mainly, I need a new clock spring thingy, but frankly that sounds like a pain in the ass, so if anyone has a spare Airbag wheel going for one of these in or near Brisbane, then please let me know so I can make a trip to come collect it