thanks Mo3,
I'm from Russia.
the SC on the install photo is a SC12, but I will use SC14.
I found that photo of SC12 install, with a lack of description unfortunately, somewhere on this forum I believe.
got a new one from yahoo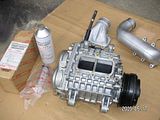 it will go behind the engine similar to that install, SC12 and SC14 external dimensions are almost identical (the SC14 with different pulley below is a previa's one)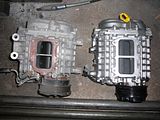 in addition the WP will be replaced with electric WP to free more space behind the engine.
it will run with pulleybros 103mm clutched pulley, so I believe 10psi will not be a limit for a 1.5l engine...